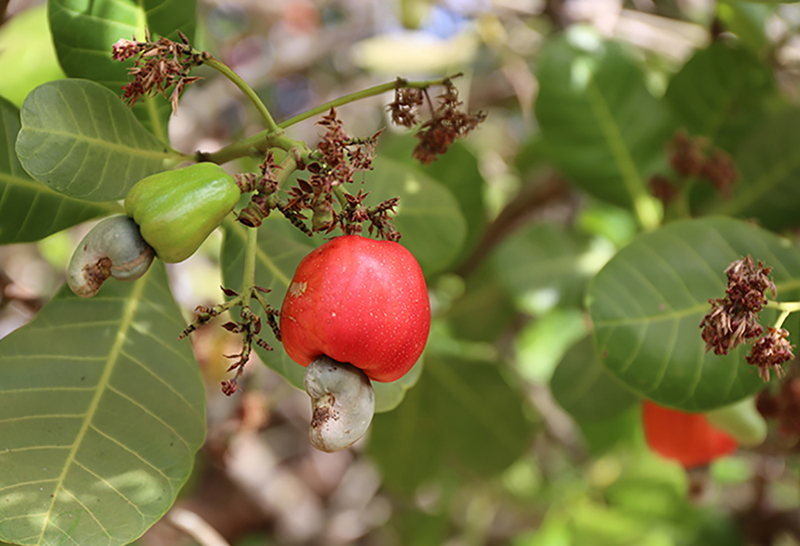 Senegal 02 July 2018 /
The West African Women's Association (AFAO/WAWA) started an initiative to boost cashew processing in Senegal. Rather than selling raw cashews to traders, they decided to expand post-harvest opportunities close to home by training and equipping hundreds of women to process and market cashew apples and nuts. Food Tank spoke to AFAO/WAWA Regional President Khady Fall Tall about this initiative.
AFAO/WAWA seeks "to promote the economic status of women in West Africa." "Poverty is now still the big problem we cannot solve," Fall Tall says. "When you are poor, very poor, you cannot think about anything. You cannot think about your own situation, because you are stressing by your situation."
Fall Tall tells Food Tank that the Capacity Development of Cashew Value Chain Actors in West Africa project arose from her observation that the cashew sector could expand employment for women in West Africa. Cashew, she says, is "very successful now in the world." But the raw cashews grown in the region were largely being sent abroad: "All the processing and transformation is done by India," Fall Tall says. She approached the West and Central African Council for Agricultural Research and Development (CORAF) with a message: "Research without development is nothing. Please give us the opportunity to implement this project." CORAF agreed.
The project operated in the areas of Gorom, Thiénaba, and Ziguinchor, where women worked together to carry out processing activities like sorting, steaming, drying, and husking the cashew nuts; make a variety of products like jams and flour from cashew apples; and cooperatively to market their products. "We are 674 members, and our ambition is to do more kilos of cashews," says Mme Louty, a Thiénaba beneficiary and president of a group called Fass Diom, in a video about the project.
AFAO/WAWA's work also extends beyond cashew processing, and they have also focused on other products, including cereals, Fall Tall explains. Targeting the most vulnerable community members, AFAO/WAWA couples training with access to shared equipment. Fall Tall explains this multi-component approach: "After skill, we give equipment, because when we finish training, if you do not have machinery or something to work with, you cannot work."
Fall Tall reports that after participating in the cashew project, participants are working, earning money, and cooperatively selling their products at trade expositions. Though the project has ended, AFAO/WAWA is looking to begin a new phase of this work in partnership with The World Bank. To improve women's economic situation, Fall Tall says, more investment for women is needed.
The original article is published by Food Tank