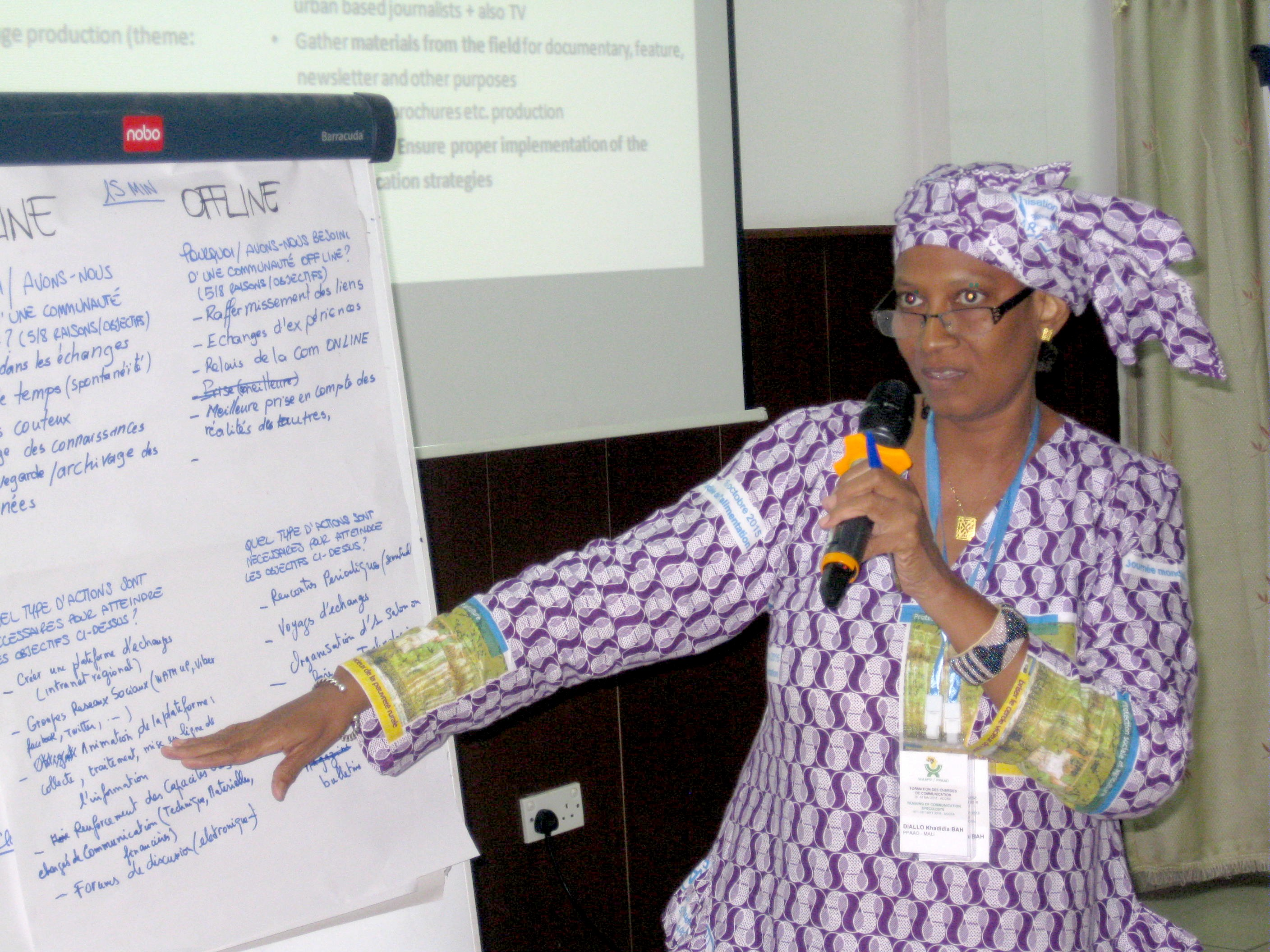 CORAF 14 June 2016 /
To reduce the information gap between farmers and researchers on improved technologies that can effectively contribute to the achievement of a 6% agricultural growth in the sub-region, the West Africa Agricultural Productivity Programme (WAAPP) is revitalizing its communication strategy by harnessing the potential of communication for Development (Com4dev). For effective implementation, CORAF/WECARD partnered with the FAO and the World Bank has built the capacity of the Communication specialists from the 13 WAAPP recipient countries to infuse new skills and knowledge in using the right medium and tools to meet information needs of primary stakeholders.
The nineteen (19) Communication Officers who benefited from the training from 16 to 19 May, 2016 in Accra-Ghana, are expected to develop new participatory approaches that give farmers access to relevant knowledge and facilitate meaningful dialogue at national level. As it is believed that application of COM4DEV principles will trigger technology adoption to increase productivity, stimulate socio-economic growth and agro-industrial development for individual and society.   
Opening the workshop, Dr Anatole KONE, Information and Communication Manager of CORAF/WECARD encouraged WAAPP communication officers to use the opportunity to reinforce their knowledge and skills on science communication. He made them to understand that expectation is high and as such, they should closely work with extensions, monitoring and evaluation units as well as scientist in their respective countries to get the right scientific information on technologies for onward packaging and delivery to users in simplified and understandable form.  
The participants were coached on COM4Dev broad issues such as gender mainstreaming in communication, writing techniques, guidelines on social media information packaging, storytelling for behavioural change. Highlights of the workshop was also on presentation of the key findings of a need assessment conducted by the Food and Agriculture Organization of United Nations. 
The closing ceremony of the workshop was attended by Dr Abdoulaye TOURE, Task Team Leader of WAAPP- World Bank (Africa Bureau) who commended the efforts of the country team communication officers. He assured the participants of his support so that communication now occupies its rightful place in the implementation of WAAPP. He also announced the establishment of an award for the "best success story" produced by country team communication unit. The first competition will be launched in November, 2016.