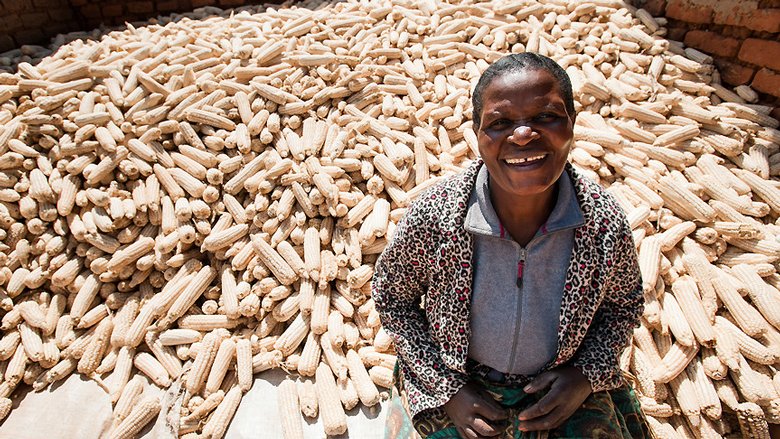 CORAF 27 June 2016 /
The West Africa Agricultural Productivity Programme (WAAPP) has been distinguished as the second best project in Africa as part of the 2016 World Bank's Africa region vice-presidential unit (VPU) team award. WAAPP is recognized for its outstanding contribution to boost the West Africa's food system, to innovate, create, disseminate and adopt improved technologies as well as the creation of favorable conditions for regional cooperation in 13 recipient countries.
WAAPP coordinated by CORAF/WECARD moved up by eleven rank in only 5 years after its first nomination by the World Bank's Africa Region VPU Team Award in 2013 at the thirteenth place. This tremendous progress is fuelled by its high capacity to transform West African agriculture by boosting productivity by over 50%, reducing hunger and improving nutrition through improved and drought resistant crops, creating thousands jobs and supporting agricultural technologies transfer across borders.
WAAPP is estimated to have increased food production in West Africa by more than 3 million tons and raised beneficiary incomes by an average of 34%. In fact, the West Africa Agricultural Productivity Program is positioning itself as one of the major responses of the Economic Communities of West African States (ECOWAS) to the 2006-2008 food crises rocking the region. The region's food situation would have been worse without WAAPP's efforts.
To date, WAAPP has successfully generated over 160 technologies enhancing productivity which are directly benefiting over 7 million farmers, processers and small businesses across the region (45% of whom are women) and about 30 million indirect beneficiaries. Our improved technologies are effectively used on close to 4 million hectares across the West African region.
On other hand, WAAPP stands out of 80 projects reviewed by the continent wide competition for its excellence in preparing quick response solutions to the rapidly emerging local and global challenges and building clients' capacity to act on emergencies and enhance resilience. In 2015, WAAPP delivered 10,500 tons of seeds to up to 250,000 farmers in Guinea, Liberia and Sierra Leone to boost post-Ebola recovery.
The World Bank's Africa Region Vice-Presidential Unit commended the efforts of the WAAPP coordination unit at the World Bank lead by Dr Abdoulaye Toure, Agronomist and Task Team Leader of WAAPP at the World Bank and composed of Amadou Alassane, Abimbola Adubi, Hardwick Tchale, Kadir Osman Gyasi, Erick Herman Abiassi, Sheu Salau, Elisee Ouedraogo, Amadou Ba and Aifa Fatimata Ndoye Niane.
At the regional level, the West Africa Agricultural Productivity Programme is coordinated by the West and Central African Council for Agricultural Research and Development (CORAF/WECARD).