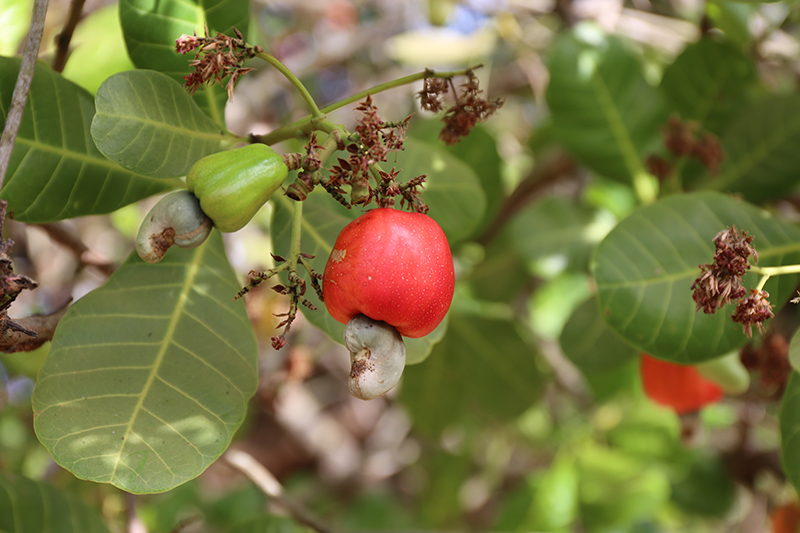 Trails on plantations of cashew growers in Savè, Benin show an increase in yields and incomes when producers take suggestions on best agriculture practices from scientists.
Yields in cashew nuts are generally low in Benin. They vary between 300 to 600 kilograms (kg) per hectare. Experts blame this on the poor agricultural practices. Adopting new fertilization methods can improve productivity.
Benin's leading agricultural research institution (INRAB) conducted fertilization tests on cashew trees from 2015 to 2017 in selected rural areas. The results show that, when the NPK mineral fertilizers are applied to cashew trees, they lead to positive results.
Besides generating dark green leaves, fertilized cashew trees have a significant increase in nut production. Dark green leaves are a sign of the health of the cashew trees.
The Case of Mr. Hyppolite Kotchadan
Trails were conducted on 0.40 hectares belonging to Mr. Hyppolite Kotchadan. In 2017, he harvested 420 kg of cashew nuts. This is about double the harvest made in the same surface area before the start of the trial in 2015. This also corresponds to a yield of 1050 kg/ha. Mr. Kotchadan argues that nuts harvested on the trail plot represent about a quarter of the total quantity that he harvested on his five hectares plantation. The fertilized area was less than a tenth of the total area of the plantation. In 2017, Mr. Kotchadan sold about 1700 kg of cashew nuts for a total amount of 1,358,000 F CFA (USD 2700). Thanks to the proceeds, he was able to purchase a motorbike that now allows him greater flexibility to move around.
Encouraged by the results, Mr. Kotchadan is now saving money and planning to apply similar practices in other parts of his plantation.
As part of the implementation of the West Africa Agriculture Productivity Program, a project designed to improve on job creation and raise the income levels of actors in the cashew value chain in was implemented in Benin, Burkina Faso, Côte d'Ivoire, Ghana, and Senegal.
Over 4420 producers, processors, and students were supported during phase one of this project.
The cashew industry is growing and becoming a considerable source of revenue for the most economies in the region. Three West African countries (Côte d'Ivoire, Guinea-Bissau, and Benin) are among the world's top five exporters of raw cashew nuts.