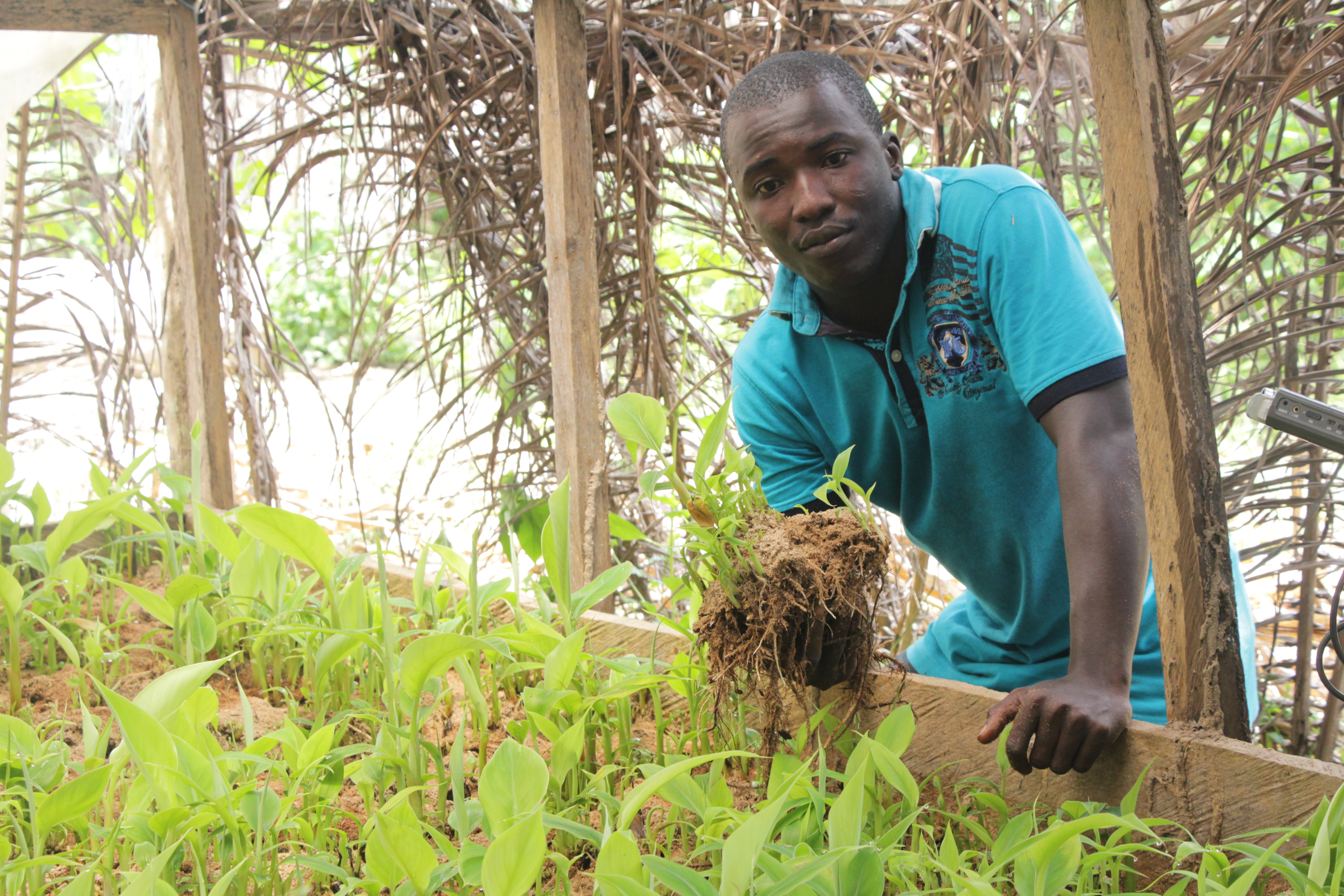 While studying at university, Narcisse AMAN wanted to become an agricultural entrepreneur. Today, his dream became a reality thanks to the plantain nursery business introduced in Côte d'Ivoire by the West Africa Agricultural Productivity Programme (WAAPP).
It is in the sub-prefecture of Arrah, over 200 km from Abidjan, that Narcisse AMAN, an Engineer in Agricultural Technology who graduated from the National polytechnical institute Félix Houphouët-Boigny (Institut national polytechnique Félix Houphouët-Boigny, INP-HB) of Yamoussoukro has settled his plantain nursery business since September 2015. The 29 years-old young agricultural entrepreneur a former employee of an agro-industrial company, choose to resign after 3 years to be a full-time nurseryman.
Narcisse AMAN has acquired good practices on off-ground cultivation of plantain seedlings off the ground called "plantain plant derived from stem fragmentation" (PIF - Technique de Plants Issus de Fragments de Tige) during a training funded by WAAPP. He  is part of the 120 youths trained on nursery production to drive the implementation of a formal system of production and multiplication of planting materials of plantain to meet farmers` demand in the country. "After the training, I started with 3 germination decks for a total production of 25,000 plants. The first year was difficult because I was not making any profit. However, the produced seedlings were easily marketed through the partnership agreement between the network of plantain Nurserymen and the Coffee-Cocoa Board", said Narcisse AMAN.
Based on the success of the first year production, I got for the 2nd year a production contract to supply 171 000 nursery plants under contract with the Coffee and Cocoa Board.
This empowered Narcisse AMAN to move from informal business to a formal legalized business called "CANAAN Agriculture,". This young entrepreneur has considered diversification as his credo for success. In addition to the production of plantain seedlings, he specialized in the creation and management of plantations for individuals and training in agricultural trades.
"Thanks to this plantain nursery business, in addition to providing for the daily needs of my family, I have acquired a 4x4 vehicle worthing 6 million FCFA for the distibution of the produced plants. I also bought a tricycle at 1.25 million CFA francs for the transportation of employees and working equipment. Furthermore, I take care of my younger brother studies as well as undertook to finish building the family home" he added.
Under agricultural trades, Narcisse AMAN has contributed to train young graduates from agricultural schools. As such, he has already trained three generations of trainees totaling 11. A training partnership was even signed with a regional agricultural school.
This valiant entrepreneur, with business acumen employs 11 staff including 6 permanent staff all paid at the Agricultural minimum wage. In terms of prospects, he is anticipating the production of 300,000 seedlings for the 2015-2016 campaign and intends to invest in the production of off-season plantain on a 30-hectare surface. To this end, he is requesting a support from WAAPP for the acquisition of a complete irrigation system for the off-season plantain production.
It is worth noting that since 2013, WAAPP has enabled the private sector to develop the sector of healthy plantain seedlings production, thanks to the plantain nursery business. This business is a real source of revenue for people involved in it and is a source of employment, especially for youth and women.