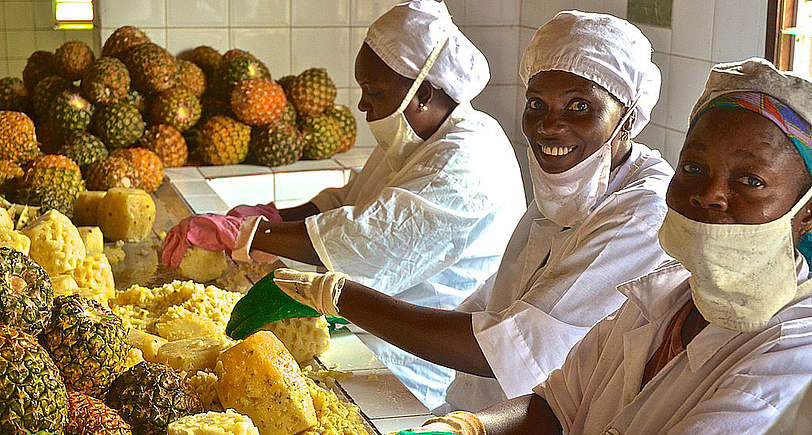 The "Juice IRA" platform is an economic interest grouping involved in the production, transportation, processing and marketing of pineapple. It is a sacred union established with the financial support of WAAPP-Benin to ensure the development of the pineapple industry in Benin. It is a consultation framework gathering producer organizations with almost 3,000 small producers, processors united in "Promo Fruits" for the production of canned "Juice IRA", suppliers of inputs (fertilizers, packaging cartons and cans) and financial institutions providing credits.
The "Juice IRA" platform is a wider dialogue framework where different categories of stakeholders work together to curb the difficulties they encounter so that each stakeholder can bring the solution to the problem of others.
Since the establishment of this platform by WAAPP, the different links are working to meet their various interests by serving the others.
The first issue addressed by the organization was the optimization of yield per hectare through weed control by biodegradable polyethylene films which allowed pineapple producers increase their yield from 38 tons to over 70 tons per hectare.
With the "Juice IRA" platform, the distribution chain of pineapple from fields to processing plants or markets for commercialization was professionalized. Input suppliers have a market for their products and processors get quality raw material for the production of their juice in order to be competitive on the market. Suppliers of packaging cartons and cans also get benefits by supplying packaging scans which constituted the major constraint to any processor in Benin.
With the "Juice IRA" platform, there is a quite visible synergy between the West Africa Agricultural Productivity Program (WAAPP) and the Projet d'Appui à la Diversification Agricole (PADA) [Support Project for Agricultural Diversification] that are the two projects benefiting from the World Bank Funding in the field of Agriculture in Benin under ProCAD. Indeed, thanks to the funding of PADA under the shared-cost scheme, the production of packaging scans is currently conducted within this platform. Those scans are needed by "Promo-Fruit" for the production of 'Juice IRA' (juice).