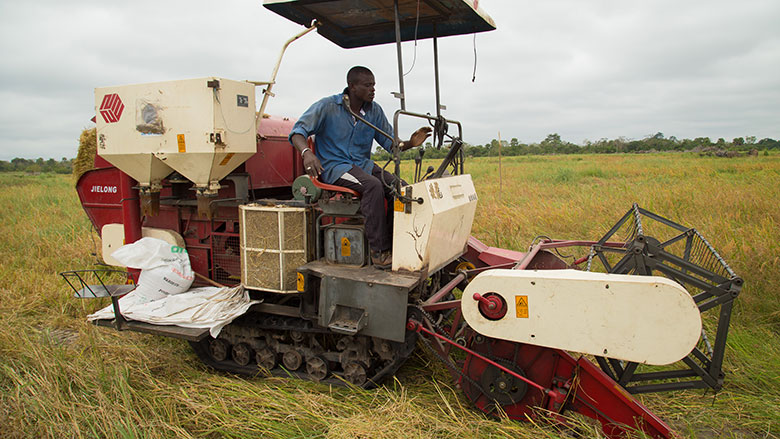 Augustin Oussou is a happy man. This poultry farmer from Tieplé, a village located in the center of Cote d'Ivoire nor far from Bouaké, is able to live decently off his farming revenues. His poultry sales provide him with a salary that he uses to cover the needs of his family, and have a small savings. "Thanks to this income, I was able to pay the dowry of my fiancée. I am also able to cover the schools fees of my children who attend a private school, even though my village has a public schools," he explained.
Augustin is one of 800,000 Ivorian farmers that has benefited from the West Africa Agricultural Productivity Program (WAAPP), financed by the World Bank. This program aims to improve agricultural productivity through the development and use of certified seeds and the adoption of best practices for livestock farming such as the construction of hen houses (using local material) or the vaccination of poultry. Raising livestock is a promising sector for youth seeking employment. In fact, 30% of WAAPP beneficiaries that are practicing poultry farming are youth. Augustin Oussou is convinced that this sector is a lucrative business and has even taken steps to negotiate with his village authorities about how to provide training for more young people like himself who wish to invest in this activity.
Oussou is just one on many beneficiaries of the program. Others, such as Albert Kangah, is exploring a different avenue. He produces plantains and runs a nursery in Azaguié, a village approximately 40 kilometers from Abidjan, the economic capital of Cote d'Ivoire. "I am able to produce plantains in the off season that to WAAPP support. In the beginning, I was worried about not being able to sell off my produces. However a media campaign allowed me to reach a large portion of the population creating a lot of demand, sometimes too much to satisfy," says Kangah. With the increase in revenues, he was able to purchase a vehicle for the modest sum of 3 500 000 FCFA ($7,000 dollars) to deliver his produce faster. As a result, he can deliver an average of 1.5 tons of plantains per week in the off season. He has also hired 14 workers that work full time for his business.
While these results are impressive, for to Jean Paul Lorng, the WAAPP assistant coordinator, the scaling up of the distribution of certified seeds for crops such as manioc and plantains, and of poultry incubators is necessary to diversify revenue sources for Ivorian farmers. Thanks to the WAAPP, Akissi N'da Kouame, a farmer from Bedressou, a village in central Cote d'Ivoire, has several agricultural activities under her belt. She produces manioc and manioc seedlings, as well as processed manioc. "I started with one or two hectares of manioc, and now I have achieved my dream of becoming a manioc processor with the purchase of a grinder," says N'da Kouame with a smile.
From September 2011 to May 2015, the program has helped improve the livelihoods of 800,000 beneficiaries, of which 49% are women. The project originally had a target of 500,000 beneficiaries. 247,692 hectares are cultivated with certified crops of rice, plantains, corn, yams, and sorghum, all of which were distributed by the project with the aim of covering 150,000 hectares at the end of 2015.
The support of the WAAPP has led to a 22% increase in income for agricultural based households according to the studies conducted by the National School of Applied Statistics (ENSEA).