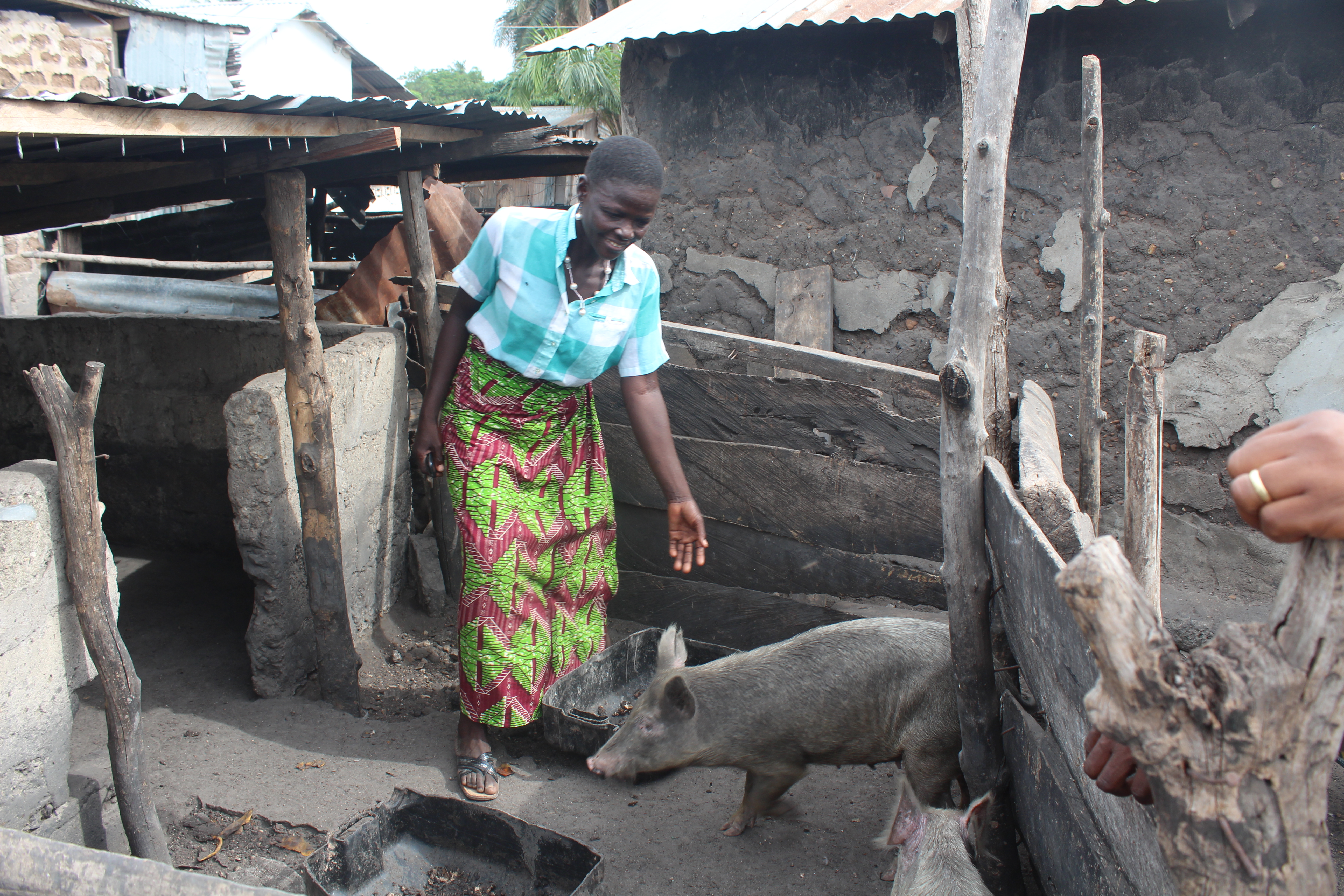 With a smile and regained pride, Mrs. KADOKALI Ebiro showed us around her pig farm while telling us her life story. Aged 47, this widow and mother of 4 children highlighted the great and positive impact that the improved steamer offered by the West Africa Agricultural Productivity Program in Togo (WAAP-Togo) has on the grouping of female parboilers of rice known as "Femmes Vaillantes" (Brave Women) and on her own life.
Ebiro is now enjoying freedom from want, but it has not always been the case in her past condition. After the death of her husband, she had to sell sand and coal to meet the needs of her family. However, the revenue earned was insufficient. Therefore, she joined in 2007 the group of women known as "Femmes Vaillantes" (or 'Brave Women' in English). This group of women was engaged in rice parboiling, but traditionally. At the time, they were recording a loss of 6 kg per bag of 100 kg of parboiled paddy. They could only parboil 3 bags of 100 kg per day and they could only earn 7,500 FCFA a day.
With the improved parboiling kit offered by WAAPP-Togo in 2014, the group of women called "Femmes Vaillantes" has increased its profits by 211% and diversified its activities. Ebiro is now able to easily pay the school fees of her children. One of her children, a daughter, obtained a Bachelor's degree in Management from the University of Lomé in 2015. Ebiro began pig farming with her share of profits. Among other things, Ebiro and her family have now improved the nutritional quality of their meals. In rural areas in general, rice is considered as a "festive meal". But in Ebiro's house, this is no longer the case. Ebiro and her family eat parboiled rice rather frequently. As the current Chairwoman of "Femmes Vaillantes", Ebiro and the other women are now harboring the dream of creating a modern rice parboiling center so as to help women and young people have some financial independence by offering them a job.
Since its launching in December 2011, WAAPP-Togo is working to generate and promote technologies that can meet the nutritional needs of the population and ensure food security. In order to accelerate the implementation of its strategy for socio-economic empowerment of women, WAAPP-Togo acquired 10 rice steamers for the benefit of 10 groups of women producing parboiled rice across the entire country.