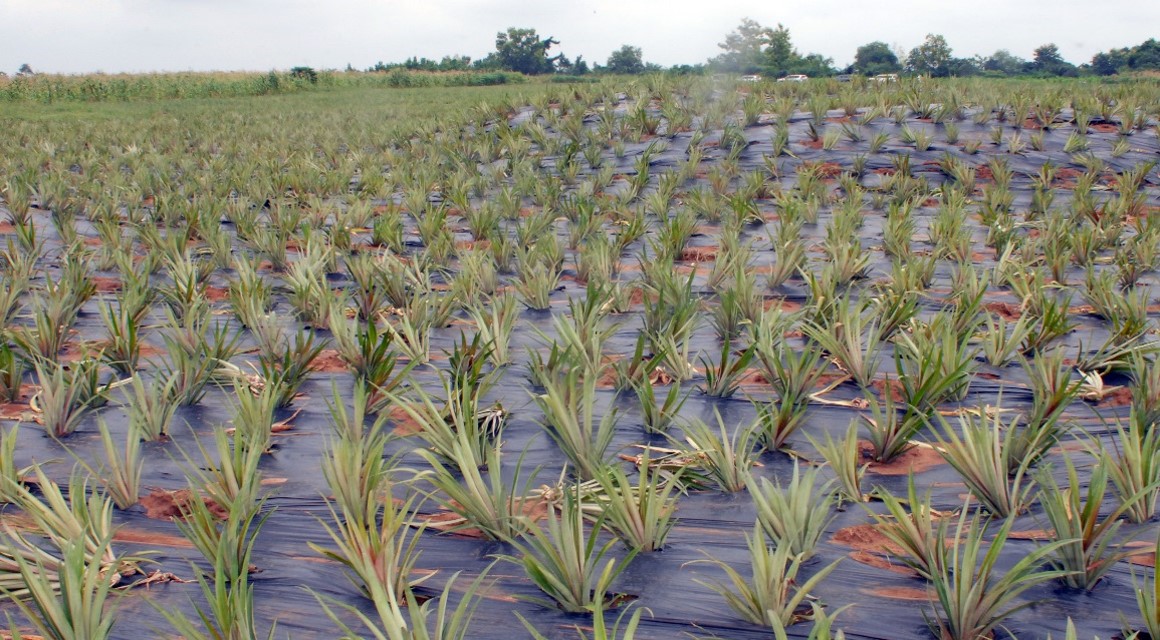 WAAPP has successfully introduced new production technique using polyethylene film which allows pineapple producers in Benin to substantially increase their yields. So far, 144 producers participating in a pilot program have doubled their production, going from 35 to 70 metric tons of pineapples per hectare. Community associations have taken the lead on monitoring these agricultural projects, particularly by checking on the investments and ensuring that these new practices are disseminated within farmer organizations.
In the commune of Zè in Agbodjèdo, Daniel Koudessa and his six partners in the pineapple producer village cooperative are enjoying newfound success. After having piloted a pineapple production technique using polyethylene film on one hectare of their farm, they have already been able to significantly increase their yield. "This technology has helped us resolve workforce issues we were facing previously, and allows us to have better yields with shorter production cycles," explained Daniel Koudessa, with a sigh a relief.
By covering crops with this film, farmers are able to retain moisture in the soil throughout the year, saving on costs of water, irrigation, and labor.  So far, 144 producers from 10 organizations and 27 technicians have been trained in the communes of Allada, Tori-Bossito, Zè, and Toffo. The adoption of this new technique was made possible thanks to the West Africa Agricultural Productivity Program (WAAPP) and 13.2 million CFAF ($21,000) in funding from the Agricultural Productivity and Diversification Project (PADA) to help conduct several pilots of the use polyethylene film in Benin's pineapple production zone. The PADA and the WAAPP complement each other. WAAPP coordinated by CORAF/WECARD works at the regional level to catalyze agricultural research and the introduction of new technologies meanwhile the PADA finances the large scale dissemination of these innovations at the national level.
Athanase Akpoé, President of the National Federation of Pineapple Producer Village Cooperatives of Benin (FENACOPAB), believes this new technology is yielding positive results and considerable profits. "The introduction of polyethylene film into the pineapple production process is primarily a matter of financial profitability. The balance sheet for one hectare of pineapples produced without polyethylene film shows that we are investing approximately 1.8 million CFAF ($2,800) for gross sales amounting to at least 4 million CFAF ($6,400) per hectare. With polyethylene, we are moving toward an investment of about 3 million CFAF ($4,800) per hectare to obtain gross sales close to 8 million CFAF ($12,800)."
Furthermore, producers attest that the new technology has resolved the problem of labor shortage in the region, which was linked to the massive exodus of young people to the big cities. It also helps them meet the ever-growing demand from Promo Fruits, the company that produces IRA pineapple juice, a popular brand in Benin and abroad. "To satisfy Promo Fruits's demand, we need to produce more and improve our yield. Currently, the output from pilot plots yields 65 to 70 metric tons per hectare, compared to 35 to 40 metric tons previously. We are therefore in the process of disseminating this new procedure across the entire region," said Nina Dessouassi, the technician in charge of supervising producers in Allada.
In addition to the introduction of this new technology, the PADA supports organic pineapple production efforts. To this end, Roseline Capo-Chichi has received support to produce compost in Allada-Togoudo. "I used to have a wooden compost bin, but with the grant of 10 million CFAF ($16,000) that I received from the PADA, I now have a concrete bin with a ten-year lifespan and a water tank. My production has increased from 3 to 50 metric tons of compost in two months. I supply over 500 organic pineapple producers with compost and can now meet the growing demand from customers," affirmed the young farmer.
Other developers have received financing for the processing of agricultural products through the competitive fund and matching grant facility (financed by the PADA). This is the case of Jean Fonton, the manager of JEC SARL, who has been able to establish a production plant for pineapple juice cans—a first in Benin—with 49.5 million CFAF ($79,600) in funding. Promo Fruits was also provided 23.5 million CFAF ($37,800) in 2014 to boost its production capacity, which in turn rose from 214 kilograms per day to 45 metric tons per day.
The PADA and the WAAPP are two components of the Agricultural Diversification Support Framework Program (ProCAD) financed by the World Bank in Benin. These two projects have a very positive impact among small producers, who contribute significantly to the development of their communities through the increase in their income.
"Both projects aim to restore and improve crop productivity, and develop a number of value chains such as pineapple, rice, cashew nuts, and fish farming through the financing of processing plants. Their objectives converge to improve technology in order to develop agriculture and positively impact family farms," noted Bertin Adéossi, National Coordinator of ProCAD.
More interestingly, ProCAD introduced citizen oversight into its interventions, allowing Benin's Platform of Civil Society Actors (PASCIB) to be actively involved. "Citizen oversight is conducted at all levels. The platform even chaired the committee to protect the confidentiality of files. We also regularly go into the field to check on the investments and identify cases where dishonest entrepreneurs have abandoned project sites," stated Ernest Pédro, Permanent Secretary of PASCIB.
This civil society oversight has a positive effect on outcomes and encourages beneficiary producers to adopt the best practices introduced by the ProCAD, and disseminate them within their farmer organizations.