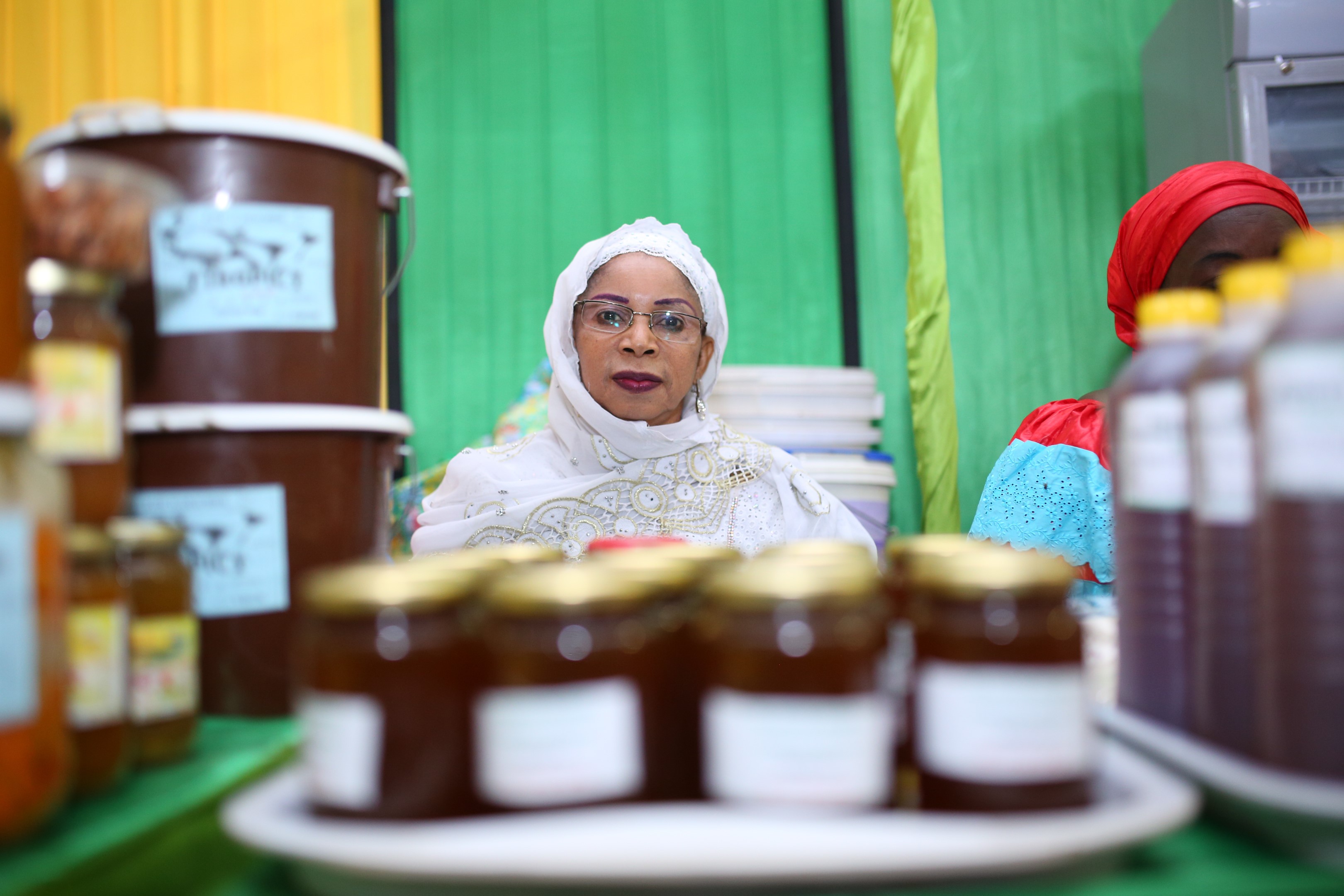 True to her reputation as a brave woman, Aissatou Diallo, Chairwoman of the Economic Interest Group (EIG) named SHIVET FRUIT counts 28 years of experience in this business. With reduced mobility, Aissatou Diallo neither begs nor believes in mendicancy. Her credo is "work". This business woman aged about fifty years does not miss the major commercial events such as fairs and other trade shows. On the occasion of each International Fair of Agriculture and Animal Resources, she is invited to settle in the village of the West Africa Agricultural Productivity Programme to sell the products from their fruit processing unit and make contacts.
She started her activity in 1988. "I could not stay idle at home. That's how I started making local juice in an artisanal way", she explained. Finally, Aissatou Diallo and other women established an EIG of ten members. 2005 is the starting point. She is part of a group of women targeted by the Fonds national de recherche agricole et agro-alimentaire (FNRAA) [National Fund for Agricultural and agri-food research], an implementing agency of WAAPP, to receive training in the field of processing and food preservation. A long journey led them to Canada. "We have gained valuable knowledge and received diplomas", she said. On her return from Canada, the EIG named Shivet Fruit of which she is Chairwoman received equipment from FNRAA estimated at one million CFA francs. As a result of the training, the organization now has the technical capacity required to process almost all local products, while maintaining their taste and nutritional qualities. For Shivet as an EIG, this experience was a true consecration.
Their production unit processes local cereals into syrups, preserves and jams. These are products with extreme delicate taste. "We carefully comply with manufacturing standards", said Mrs. Samb surrounded by her collaborators.
In Mbour on the small coastline [Petite Côte] where the EIG operates, the brand called 'Tropic' gains the trust of the hotels and restaurants that are highly demanding in terms of hygiene and quality. Regular checks of the National Hygiene Service are used as quality evidence at the processing unit. "The products of Aissatou Diallo do not show any lack of hygiene and quality, and our customers really appreciate her syrups, jams and processed cereals. I strongly encourage her to maintain this momentum" a hotelkeeper in the seaside resort of Saly said.
Another step was taken with the opening of a shop. Tropic as a brand acquires a reputation that now goes beyond the Petite Côte (Small Coast). The success of Shivet was immediate thanks to highly tasty products. This EIG then demonstrated its ability to meet the most demanding orders, especially those of Westerners spending their holidays in Mbour. As an outstanding saleswoman in the Petite Côte, Aissatou Diallo aims to expand her business internationally.
Mrs. Samb is the national preference spokesperson. She advocates the consumption of local food.