Liberia 15 February 2016 /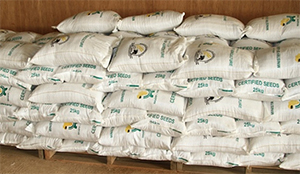 Liberia, one of the three countries seriously affected by the Ebola outbreak is reviving its agriculture. The country has successfully harvested this year, 164 hectares of rice foundation seeds. This was possible through the rapid recovery seed intervention program for Ebola-affected countries coordinated by CORAF/WECARD through the West Africa Agricultural Productivity Programme (WAAPP), and the USAID funded West Africa Seed Program (WASP) and AfricaRice.
A year ago, Liberia suffered from chronic food insecurity. With the outbreak of Ebola Virus Disease (EVD) food insecurity increased tremendously. Seeds saved by farmers for planting were consumed by farm families due to the shortage of food, coupled with the uncertainty of surviving the epidemic. Another issue that worsened the food situation was the acute shortage of agricultural labour.
To help Liberia and other two countries (Sierra Leone and Guinea), CORAF/WECARD and partners mobilized 4,500 tons of seeds from eight sister countries for supply to the three countries as short and medium term measures. On an unprecedented regional assistance, 40 tons of rice foundation seeds (20 tons NERICA 8 and 20 tons NERICA L19) were mobilized from Togo for Liberia to be multiplied into 2,000 tons certified seeds.
This initiative was to support off-season seed production and the long term plan in order to build resilience to shocks including seed system improvement.
"CORAF is proud to see these 40mt of foundation seed converted into 164 hectares of certified seed and wish to commend the Government of Liberia for such great achievement. For CORAF/WECARD, this is a great incentive to continue to play its role of facilitator of the regional cooperation in the agricultural sector" said Dr Niéyidouba Lamien, Regional Coordinator of WAAPP on behalf of the Executive Director of CORAF/WECARD during the harvest ceremony.
This milestone under the project also demonstrating Liberia's readiness for the second phase of their WAAPP.
WAAPP's rapid recovery seed intervention program for Ebola-affected countries a total of 240,000 beneficiaries have received seeds of rice and maize, covering 110,000 ha. An additional 8,500 tons of seeds are expected to be produced to cover more beneficiaries in 2016 within the affected countries. Within two years, the initiative is expected to reach 500,000 farmers, which will lead to the production of 2 Million MT of paddy.