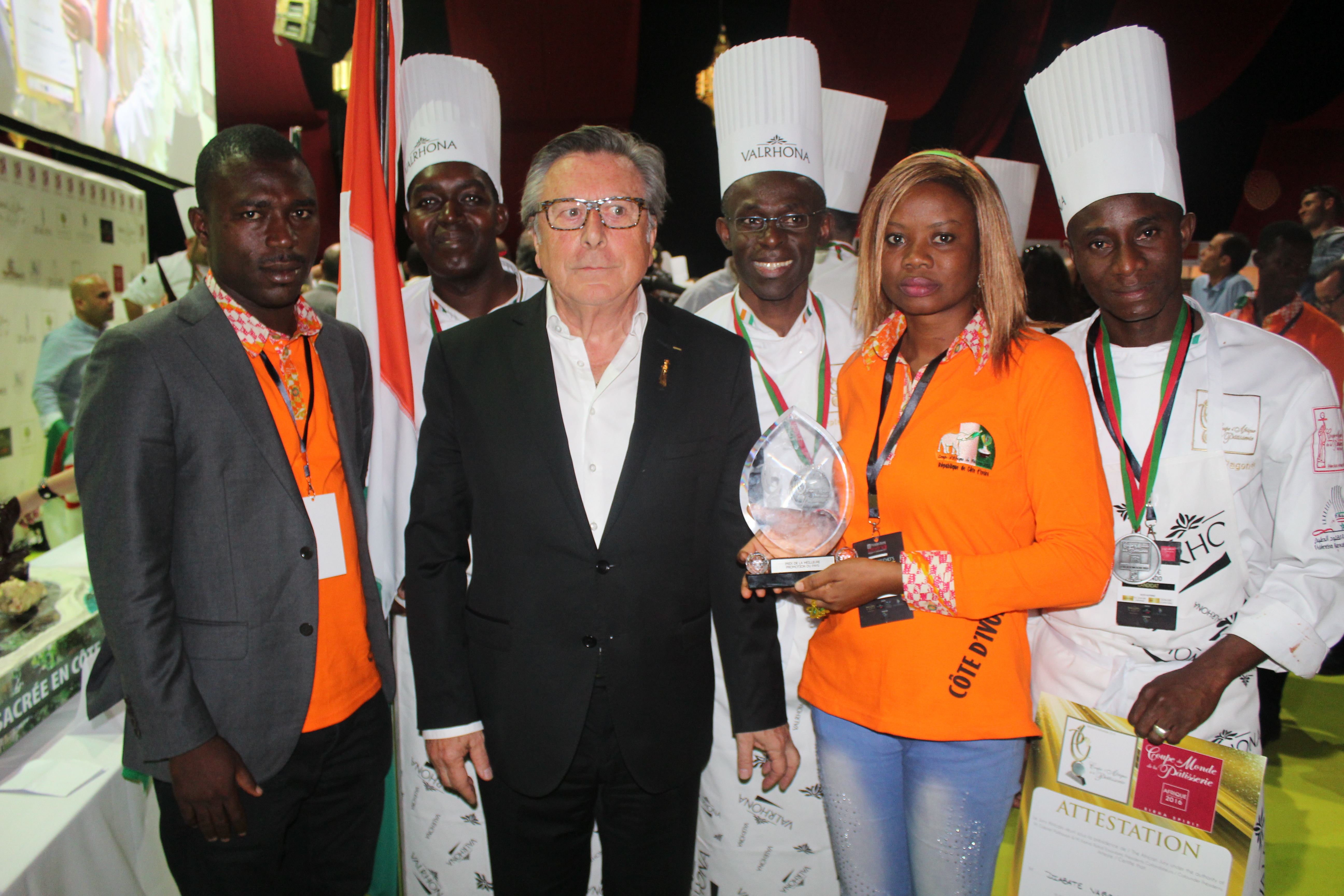 Cote d'Ivoire 05 May 2016 /
Through WAAPP, Côte d'Ivoire received the Special Award for the promotion of the national culinary art at the African Cup of Pastry (CAP), held on April 29, 2016 in Marrakech, Morocco.This award was obtained for the efforts of communication and promotion made by the Coordination Unit of the West Africa Agricultural Productivity Programme (WAAPP) as part of the value addition to local flour from plantain, maize and cassava during the Africa Cup of Pastry.
Composed of 6 pastry specialists including a specialist in artistic piece, a pastry making specialist using local flour from plantain, maize and cassava, two (2) chocolate-makers, a sugar specialist and a sculptor pastry cook, the Ivorian team of pastry had to show recipes using local flour.
The rich heritage of Côte d'Ivoire was represented through a buffet consisting of three chocolate desserts including (i) "les pépites de Soubré" (chocolate chips) consisting of several slides of sponge cake made with 40% of plantain flour and custard cream from 100% of maize flour; (ii) Plated desserts called "coconut Konkodé" consisting of snack cakes individually made with thin layers of sponge cake from 40% of cassava flour and (iii) a whipped cream made from 100% of maize flour.
For Serge Eric GNEPIE, Chairman of the team of pastry chefs of Cote d'Ivoire (the Elephants), this is the recognition of products "made in Cote d'Ivoire" such as local flour from plantain, cassava and maize.
In order to provide added value to the sectors of Maize, Cassava, and Plantain, WAAPP-Cote d'Ivoire has initiated the development of local flours made from those crops in bakery. The goal of this project is to get the professionals in the sector of bakery and pastry and the populations adopt the production and consumption of bread made from local flour.
To date, this initiative of WAAPP-Cote d'Ivoire has contributed to double the outlets for some commodities (cassava, maize and plantain) while contributing to the reduction of wheat flour imports. It should be noted that the Ivorian state imports an average of 40,000 tons of wheat per month or about 480,000 tons per year. WAAPP also contributed to the reduction of food insecurity from 36% to 15% in Côte d'Ivoire.