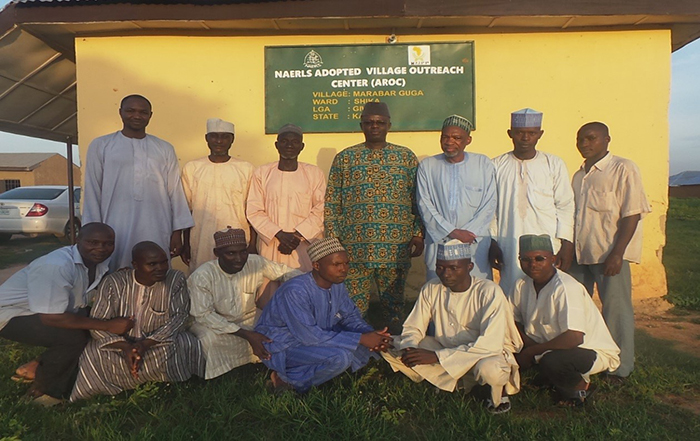 Nigeria 08 October 2016 /
The Acting National Programme Coordinator,  WAAPP-NIGERIA,  James Ocheme  Apochi,  has expressed joy on the progress that NAERLS institute has made describing it as a huge success story for WAAPP-NIGERIA, because the objectives of WAAPP is to generates and disseminate agricultural technologies for adoption that would lead to increased agricultural Productivity in Nigeria.
Addressing members of the Guga Farmers Corporatives , in one of the adopted village for the cultivation of improved seeds in Giwa local government area, Kaduna states, Apochi promised that the programme will expand its scope and reach in the next phase.
He said one of the ways to achieve its objectives is through the adoption of villages around the research institutes, while working with farmers group to ensure  that the technologies gets to the grassroots.
The Coordinator,  NAERLS,  Prof. Murtala Galadima,  who took the delegates round the adopted villages said with the help of WAAPP-NIGERIA, the institute have disseminated 30 different agriculture technologies on poultry, crop production, livestock management,  post-harvest technology and value chain that has boost income generation especially for women.
"We promotes a lots of income generation activities for women like tie and dye,  swining, pomade making, . And for farmers we have researches on maize,  rice and fish, in all we gave about 30 technologies which we are disseminating on everyday basis with over 5000 direct beneficiaries and most of the neighbouring villages are also part of the indirect beneficiaries of the technologies. So it is safe to say we have up to 20000 indirect beneficiaries". He adds that, "Research institutes in Nigeria are working round the clock developing technologies for planting, harvesting, weed control and post-harvest processing and more of those technologies are laying in a shelf because of problems, they are not being disseminated to the end users and farmers who can benefit from it, but with the coming of WAAPP into the picture, the story has changed," he said.
Expressing concern that most research institutes are not functioning the way they ought to, he urged the federal government to come up with a policy to compel each tier of government to do what it supposed to do as far as agriculture is concern,  adding that if  every section plays it role, agriculture will develop beyond it present state".
The Chairman of the corporative,  Mallam Muhammed Auwal Iyunusa, urged the government to include the training of farmers on the proper identification and planting of improved seeds as according to him is very critical.
While commending WAAPP, Auwal, called for provision of more seeds as more farmers are beginning to ask for more.