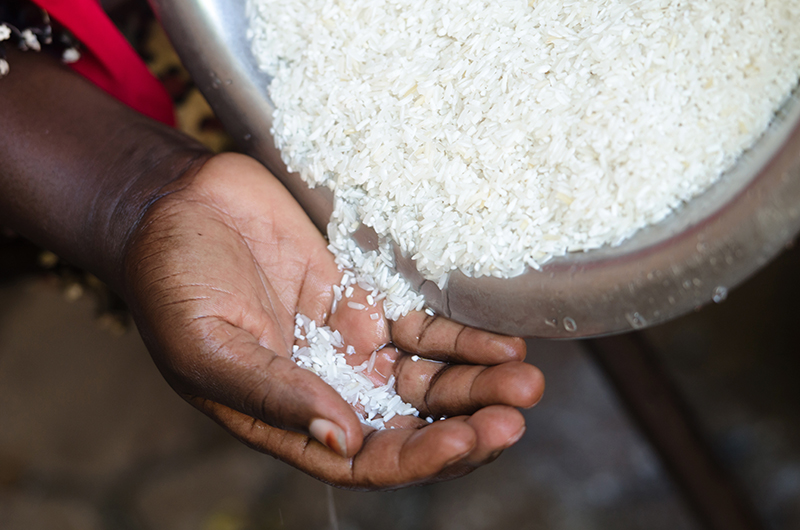 Senegal 02 November 2018 /
Yields barely lasted three months for rice-producing households of Ngoungoul, a village located about 250 Kilometers to the South of the capital, Dakar.
The conventional rice cultivation methods did not only require more water, seeds, and fertilizers, the harvest often fell short of expectation.
In Senegal as in most part of West Africa, rice is a major staple. Meaning, when yields are low, households have to resort mostly to imported rice to make up for the deficit. For families mostly living on less than USD 2 per day, this places considerable stress on already slender financial resources.
But since the introduction of the system for rice intensification (SRI), an innovative and environmentally-friendly cultivation method, rice growers in this unusually forested Senegalese village are having some respite. Not only have yields doubled, but farmers are also using fewer inputs. Early adopters of SRI in Ngoungoul have experienced an increase in production, freeing farmers to use their limited incomes on other household priorities.
In 2014, Senegal joined 13 other West African countries to implement SRI. Funded by the West Africa Agriculture Transformation Program (WAAPP), Senegal, the overarching mission was to improve rice productivity and achieve self-sufficiency. In Senegal, most of the efforts focused on improving rainfed rice production in the regions of Kaolack, Fatick, Kaffrine, and Thiès.
"The results of cultivating rice using SRI have been very encouraging. Before, our harvest could barely last three months. But now, our yields can last throughout the year and even more," says 50-year old Ndeye Diouf of Ngoungoul.
"My husband used to purchase a bag of rice every month. But since our yields increased, we are now feeding the family from our returns and using the money for other needs."
This is the case of Awa Sarr, a widow of five kids. "I now use the extra money to buy fish, vegetables, and other ingredients," she says.
"In introducing this promising method, this is what we hoped for. Any savings made by families can only be good news as it allows them to invest in other critical components of their diet and as a result improve their nutrition security," according to Abdoulaye Sy, the lead coordinated of the SRI project in Senegal.
Ngoungoul is made up of 800 people. A local group of about ten women and a man are among the pioneer adopters of the SRI practice. For almost all those using the practice, they indicated a favorable view with respect to the returns.
How Many Adopters are Needed to Achieve Self-Sufficiency?
While an increasing number of farmers in the lowland regions of Senegal are adopting the SRI, experts argue that for this practice to have a real contribution to rice self-sufficiency in Senegal and West Africa, many more farmers must adopt it.
How many farmers?
"A possible target might be 33 percent adoption rate by farmer, reaching 1.5 million rice farmers and 2.43 million hectares," according to Erika Styger and Gaoussou Traoré, joint editors of a recent report on SRI in West Africa.
"More work needs to be done to massively scale-up of SRI in Senegal," argues Abdoulaye Sy who is leading adoption efforts in Senegal on behalf of the National Agricultural and Rural Advisory Agency (ANCAR).
Results of the implementation of the project in Senegal show that in the Fatick, Kaolack and Kaffrine regions, yields for SRI were 2.5 to 3.6 times higher compared to conventional practices, on average reaching 3.5 t/ha under SRI compared to 1.24 t/ha under conventional practice. This is proportionally a very large increase, higher than what can generally be expected from areas with more water availability for crops.
Overall, the SRI project benefitted more than 50,000 farmers directly and reached more than 750,000 people in total — of whom 31.6% were women — across the 13 participating countries in West Africa. Yields for farmers increased overall by 56% for irrigated rice and 86% for lowland rainfed rice by merely planting rice differently and in keeping with the SRI method.
What are the Challenges Hindering Adoption?
The debate may no longer be on the advantages of SRI over other traditional cultivation methods. Farmers here seem to be aware of the pluses of SRI.
But what is hindering adoption if it yields more and uses less inputs?
"If we had the right equipment and land, we could have expanded our cultivation,' says Ndeye Diouf who leads the pioneer group of women practicing SRI.
Ndeye's challenge is faced by all early adopters.
The intensive nature of the labor required, the preparation of the land, and the lack of equipment are often cited as the challenges.
In Ngoungoul, rice farmers are using artisanal approaches to prepare plots. Abdoulaye Sy confirms that these are some of the factors limiting adoption.
The lack of water control, undulated plots exposed to flooding after heavy rainfall are also advanced as some of the main challenges facing SRI practitioners in this groundnut basin of Senegal. Experts argue that leveling plots require substantial investment, and this is possibly where the government can help.
 Possible solutions
According to the recent publication on SRI, three possible solutions could be explored in Senegal:
.

Forming groups to help each other for transplanting has been advanced as a possible solution.

.

Focusing on SRI for seed and cash crop production will make it more profitable for farmers to switch.

.

Improvements in data collection and field evaluations and the holding of national meetings for review, planning, and better coordination are critical for success.