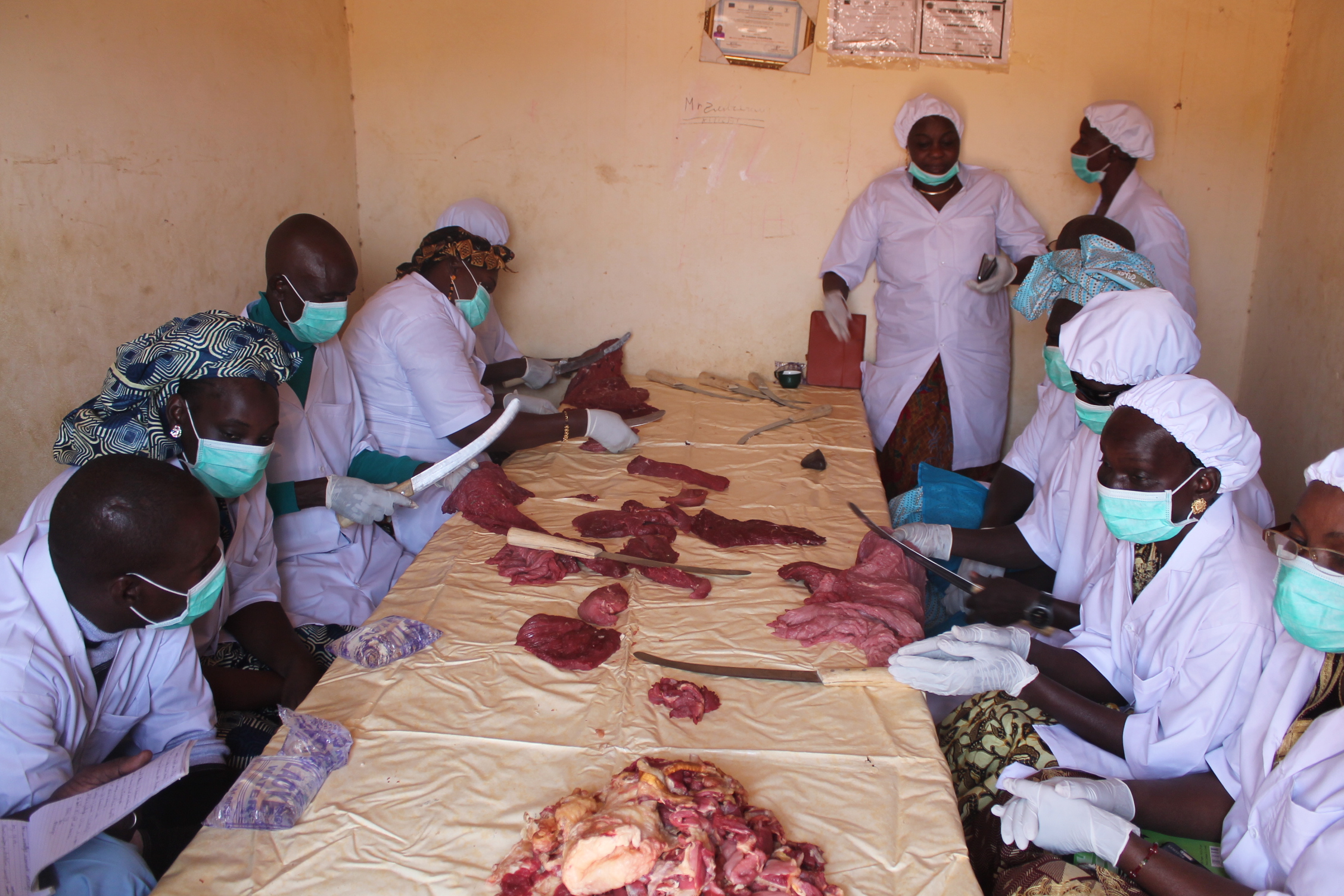 Niger 31 July 2016 /
WAAPP-Niger and PRODEX (Project Development of Agro-pastoral Products Exports) is working with Mr. Soly Abdoulaye, a beneficiary young Nigerian to set up a modern small-scale industrial production kilichi. The kilichi or dried flavor meat occupies a prominent place in Niger and in the sub-region and hardly do people come to Niamey without tasting or taking home a few kilos.
Soly who was born in Tessaoua about 700 km from Niamey has long been recognized for the quality and flavor of its kilichi.  Soly who holds a degree in Economics and Business Management is bringing his academic and traditional experiences to bear in the modernization of kilichi production in partnership with PPAAO-Niger and PRODEX as a small scale agro industry to create job and wealth in the value chain. Once project is operational, this unit will drive a revolution and innovation in this sector. At present, project completion is at advanced stage at the kilichi manufacturing site. A visit to the site shows that the factory building is ready for use, the equipment is currently being installed and production is about to commence soon.
This project was Soly dream when he was invited in 2006 by the World Bank at a fair on "Youth Entrepreneurship and Innovation" held in Bamako, Mali. It was an invitation to young people with innovative projects that will create wealth and employment. His business plan for the modernization of production and marketing of well-crafted Niger-kilichi is now a reality after 5 years of unsuccessful attempts of seeking bank loan for funding. He learned in 2011 that PRODEX supports young entrepreneurs' in agricultural sector and he made his proposal which attracted PRODEX to invest FCFA 30 million out of 68 million. The personal contribution of Mr. Soly is being valued at 19 million and there exist a gap of 18 million. Back to the bank for financial support was fruitless with the Regional Solidarity Bank (BRS) for a year.
Coming up on stream of PPAAO-Mali was timely for Soly, who approached WAAPP national coordination and worn their supports for 18 million to complete kilichi project. As a former member of Steering Committee of the UEMOA Quality Programme, Soly measured the whole dynamic around the kilichi production in Niger and understood the opportunity that exists in the meat processing sector. With the support of the Ministry of Commerce, he initiated a pilot production of kilichi for purposes of microbiological analyzes LANSPEX (Laboratory for Analysis of Products and Expertise) which certify that "kilichi the produced in hygienic and sanitary conditions is free from germ and any health problems".
Soly ambition is to contribute to job creation and participate in the export of products from the activity. With the completion of production unit kilichi, Soly hope to start with 14 employees'. In the agreement signed with the WAAPP-Niger, he is expected to implement mentoring platform for trainees and researchers, and training of other producers of kilichi on hygiene standards and safety. The company must also be a kind of incubator for knowledge for post graduate students or who wishes to carry out research on modern kilichi production in the country.