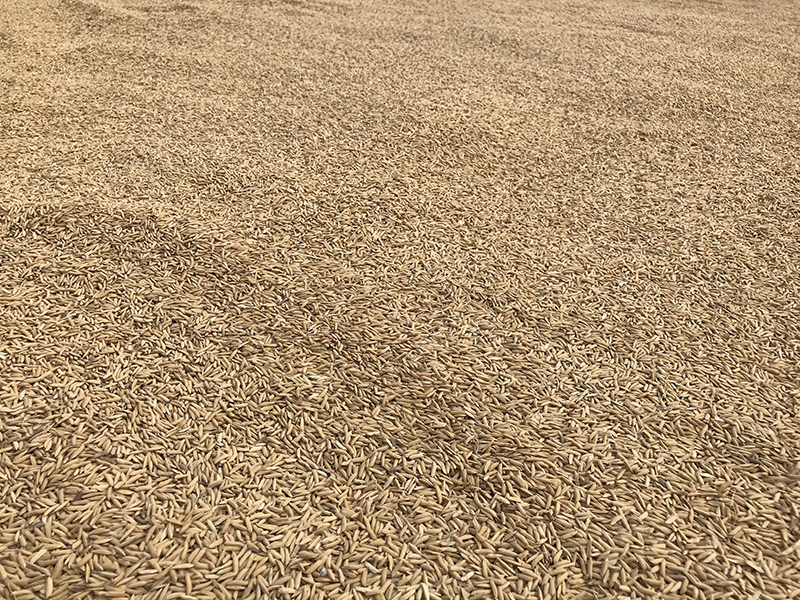 Nigeria 23 May 2019 /
Enterprises in West Africa are now delivering seeds across borders quicker and in larger quantities as a regional rule allowing the free movement of people and vital goods sets in.
Not only are businesses seeing an increase in profits as a result of expanding market opportunities, but the poor smallholder farmers are also able to access quality and certified seeds at the start of the planting season.
"Last week, I delivered 40 metric tons of sorghum seeds to Ghana," explains Stephen Yacouba Atar, Vice Chairman of Seed Enterprises Association of Nigeria (SEEDAN) and CEO of one of Nigeria's oldest seed company, Da-Allgreen Seeds Limited.
This Kano-based private seed enterprise has also done business recently with seed companies in Burkina Faso and previously with Liberian, Sierra Leonean, and Senegalese companies.
Does this have anything to do with the uniformity of seed rules adopted by all West African countries in the past several years?
"Yes," he argues.
"The harmonization of seed regulations has helped. Without this, we could have been worse off," he says.
"Before, we had many challenges transporting seeds across borders."
The Economic Community of West African States (ECOWAS) adopted the harmonized regional seed regulation in 2008. A year later, it was approved by the West African Economic and Monetary Union(WAEMU). In 2018, both regional bodies joined the Permanent Interstate Committee for Drought Control in the Sahel (CILSS) to renew an earlier agreement entrusting CORAF with the responsibility to manage the implementation of regulations in the area of seeds and seedlings.
With funding from the United States Agency for International Development (USAID), the World Bank, and other donors, CORAF and partners have made considerable progress in advancing the implementation of this policy.
"Overall, Nigeria now accounts for 60 percent of the total seeds marketed in West Africa, says Dr. Philip Ojo, Director General of the National Agriculture Seeds Council of Nigeria, the body charged with regulating the budding seed industry in Nigeria.
In 2018 alone, Nigerian companies exported close to 1,200 metric tons of certified seeds to Ghana. These include 830 metric tons (MT) of maize, 340 MT of soybeans, and 30 MT of sorghum, according to SEEDAN.
Back in 2016, The Gambia imported 63 MT of foundation rice seeds from Nigeria while Sierra Leone took in about 55 tons. With a growing need for certified seeds, both The Gambia and Sierra Leone ordered about 450 MT of certified rice seeds from Nigeria that same year to make up for their deficits.
New Markets Opportunities for Companies in Burkina Faso
Burkina Faso-based Nema du Faso, known by the acronym NAFASO is possibly one of the largest seed companies in West and Central Africa. In recent years, they have seen a spike in operations across the region to the point where they can afford to not sell to the government of Burkina Faso. In most parts of West Africa, the State is the largest customer of seed companies which they, in turn, deliver at subsidized rates to farmers.
For many years, NAFASO has sustained annual turn-over of close to USD 4 million (FCFA 2 billion). NAFASO has also experienced an increase in its bottom-line as a result of increasing demand from not only West Africa but also from Central Africa. NAFASO today deliver seeds to Chad which is also a signatory of the harmonized seed rule.
"We have a truck full of rice seeds heading to Sierra Leone. In a week, we shall be sending three trucks full of rice seeds to Senegal," said Abdoulaye Sawadogo whom we met in his Bobo-Dioulasso Headquarters in the Haut Basin region of Burkina Faso in late May 2019.
"Our trade across the region has increased significantly since the 2015 Ebola crises during which we delivered quality seeds to affected countries."
Overall, NAFASO produces over 6,000 metric tons of seeds yearly among which about 2,000 tons are exported to West Africa and Congo in the Central African region.
Many of its customers argue that thanks to NAFASO, they have been able to have access to quality seeds.
Cutting Down on Time Transporting Seeds
During the delivery of seeds to affected communities at the height of the 2014 and 2015 Ebola crisis in Liberia, Guinea, and Sierra Leone, Atar says, trucks transporting seeds could take about a month due to the road harassments and cumbersome procedures at the border.
For the most part, there have been substantial improvements in the time it takes to delivery seeds across the region.
"When I started in the early 2000s, it took me more than three weeks to transport seeds to Nigeria. During the Ebola crises, it took about a month. But now, it takes my trucks under a week to go from Burkina Faso to Sierra Leone," says the CEO of NAFASO.
"In joining the regional institutions to push for relaxed regulations and the leveling of the playing field in matters of seed certification, varietal release, and phytosanitary control, this is the sort of the outcome that we desired," says Abdrahamane Dicko, Program and Policy Advisor, Regional Economic Growth Office at the West Africa Regional Mission of USAID.
USAID has been partnering with the West and Central African Council for Agriculture Research and Development (CORAF), the World Bank, and other political and civil society actors to push for the full implementation of the harmonized regional seed and seedling regulation.
And while progress is acknowledged, there is a consensus among the seed actors that until the policy translates into availability of seeds to farmers, success would not have been fully achieved.
"Making the seed catalog available to everyone and implementing all the processes is not enough. The real success is determined by the uninterrupted flow of quality seeds across borders by business persons at the start of each planting season," says Ms. Shirley Erves Kore, Advisor to USAID West Africa and one of the proponents for the liberalization of the seed industry in West Africa.
Until recently, these volumes of seed trade were not evident as incoherent rules and lack of opportunities stifled the growth of seed business beyond boundaries.
Experts in the Nigerian seed industry acknowledge the centrality of CORAF, ECOWAS, WAEMU, and CILSS, etc. in opening new windows of opportunities, linking actors together and providing relevant and useful knowledge that is today helping them to expand businesses across frontiers.
"CORAF through the West Africa Seeds Program opened up new opportunities for the Nigerian Seed Industry in ways that had not been done before. Not only did CORAF provide market opportunities, but they also helped in providing quality foundation seeds to the competent companies as well as organizing the private seed company in Nigeria," says Prof, Onyibe, Technical Advisor to SEEDAN and a Lecturer at the University of Zaria, in Northern Nigeria.
"You cannot, therefore, dissociate the increase in the bottom line of companies as well as the increase in productivity both in Nigeria and across the West African region from these interventions."
'Not Yet Perfect, More Work Needs to be Done'
"There is still resistance from the customs. Many still do not understand the rules," says the CEO of Da-Allgreen Seeds Limited Nigeria.
However, he says, things are changing. "As we speak with one voice and educate these key actors, they are starting to understand and, in some cases, lorries that were delayed are released."
"CORAF's work, combined with the strong political leadership from national and regional institutions, have made a considerable difference in the way seeds move across countries now. But we also have to be honest by admitting that there is still much work to be done to harness the huge opportunity of West Africa seed market," says, Dr. Yacouba Diallo, a seeds expert now working with one of the newest regional seed technology scaling-up program.
"This also explains why we are stepping up efforts to ensure actors fully implement this regulation. If available testimonies from businesses are anything to rely on, then we must double our engagement with all countries and partners involved to ensure this regulation implemented. That is how we will meet the needs of smallholder farmers across our region," says Dr. Hippolyte Affognon, Manager of the Partnership for Agricultural Research, Education and Development (PAIRED), a new USAID-funded project aimed at advancing the implementation of the harmonized regulation.
PAIRED also seeks to make CORAF a stellar agriculture research institution in Africa as well as scale-up existing technologies and delivery seeds quicker to farmers.
A regional gathering to take stoke of the state of implementation of the regulation, as well as map out an action plan going forward, is planned for the Senegalese capital, Dakar in the second week of June 2019.
Also, read: