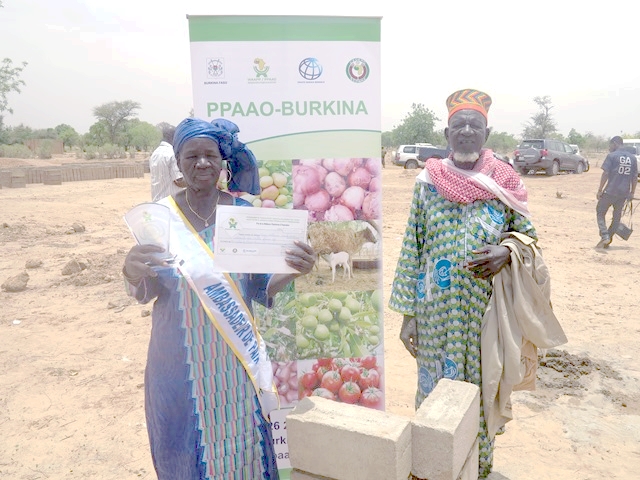 The President of UPFN Awa Ouedraogo with the chief of Yalka village who is advocating for women access to land for their agricultural production
Burkina faso 26 April 2016 /
The official prize award ceremony for the best platform for innovation in the ECOWAS to the Namanegbzanga's women provincial union (UPFN) of Bam, took place on April 22, 2016 in Kongoussi in the North Central Region, 130 km from Ouagadougou the capital of Burkina Faso. The award was coupled with the fourth edition of the cowpea promotional days in Bam initiated by UPFN.
The award was handed to the President of the UPFN Awa Ouedraogo by the Minister of Women, National Solidarity and Family Burkina Laure Zongo / Hien. In addition to Ms. Zongo, the ceremony was attended by the Ministers of agriculture and water projects and the one from higher education, scientific research and innovation of Burkina Faso.
The award ceremony was followed by the foundation stone laying ceremony of a warehouse offered to UPFN. The prize amounting FCFA 6 million, is for the construction of this infrastructure.
The prize of the best platform for innovation in the ECOWAS was awarded to UPFN through the Agricultural Productivity Programme in West Africa (WAAPP) -Burkina, on November 19, 2015 in Dakar. The prize was awarded by the West and Central African Council for Agricultural Research and Development (CORAF / WECARD), in collaboration with the World Bank, following a call for competition to the thirteen WAAPP recipient countries.