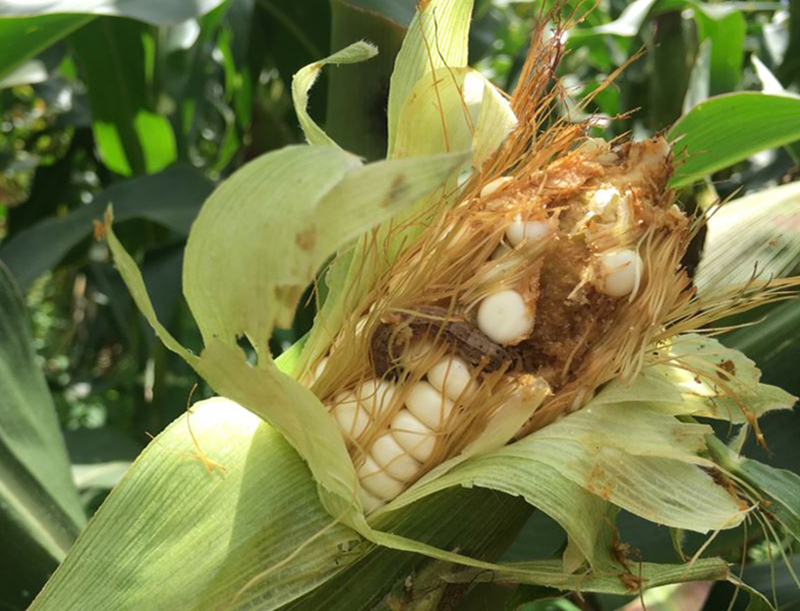 Senegal 25 January 2018 /
false
A devastating caterpillar attacking key crops in Africa is now confirmed in almost all countries of West and Central Africa.
The armyworm destroys crops including maize, a major staple relished by millions of people in both regions. Between 20 to 30 percent crop losses are already reported in Africa as a result of the armyworm.
The armyworm has been confirmed in Benin, Burkina Faso, Cameroon, Cape Verde, Central African Republic, Cote d'Ivoire, Democratic Republic of Congo, Ghana, Guinea, Guinea Bissau, Liberia, Niger, Senegal, Sierra Leone, and Togo as of January 2018.
It is still to be confirmed in Chad, Congo Republic, Equatorial Guinea, Gabon, and Mali.
"This is a critical situation requiring immediate and urgent action. Its continuous spread may reverse decades of gains fighting for the food and nutrition security of the people of West and Central Africa," says Dr. Abdou Tenkouano, Executive Director of the West and Central Africa's largest research organization, CORAF.
The Centre for Agriculture and Biosciences International (CABI) says that this caterpillar "could cause maize losses costing 12 African countries up to US$6.1 billion per annum unless control methods are urgently put in place."
At an international gathering of food actors in the Sahel and West Africa held in Cotonou, Benin in December 2017, key plays including government representatives and international organizations joined CORAF to call for a rapid response system in times of food crisis.
"The emergence of the armyworm simply suggest that our food systems cannot be completely shielded from pests or other natural disasters. This further explains why sustainable arrangements capable of responding with speed are required."
CORAF is right now working under the umbrella of the West African Economic Community, the region's leading political and economic bloc to devise an appropriate response.
The plan is to set up a regional strategy with precise plans to fight the armyworm and limit its damage to farmers and communities.
Dangers posed by the Armyworm
 According to CABI, the armyworm has the potential to cause maize yield losses ranging from 8.3 to 20.6 million tons per annum, in the absence of any control methods, in just 12 of Africa's maize-producing countries.
This represents a range of 21-53 percent of the annual production of maize averaged over a three-year period in these countries.
The armyworm is expected to spread throughout suitable habitats in mainland sub-Saharan Africa within the next few cropping seasons.
Northern Africa and Madagascar are also at risk.
 Recommended Actions
CABI recommends awareness raising of the armyworm symptoms, early detection and control, and the creation and communication of a list of recommended, regulated pesticides and biopesticides to control the pest.
"Work must also start to assess which crop varieties can resist or tolerate armyworm. In the longer run, national policies should promote lower risk control options through short-term subsidies and rapid assessment and registration of biopesticides and biological control products."