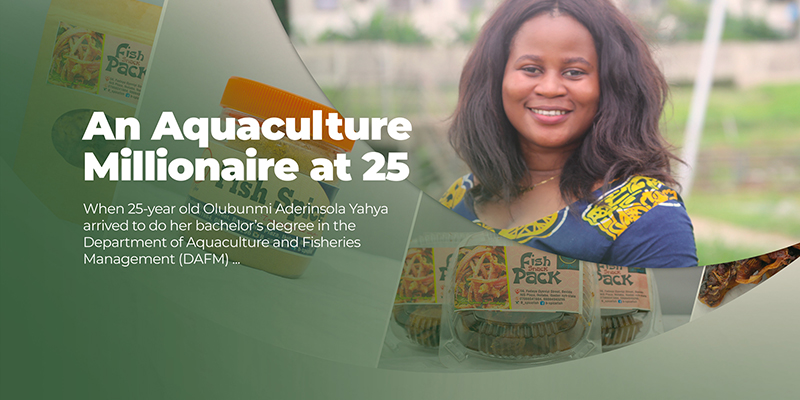 Nigeria 20 May 2019 /
When 25-year old Olubunmi Aderinsola Yahya arrived to do her bachelor's degree in the Department of Aquaculture and Fisheries Management (DAFM) in the University of Ibadan in Nigeria, she had no idea; it might one day propel her to a millionaire.
After all, for a long time, many university aspirants were shunning the department in part because of the disregard of the potential of aquaculture and fisheries management or because it was not one of the trending courses on campus.
"For many years, we had a difficult time attracting students to the department," says Prof. Emmanuel Kolawole Ajani, outgoing Head of DAFM.
Like many in her class, Ms. Yahya got down to work learning critical skills as entrepreneurialism, fisheries extension, and economics, postharvest utilization and biodiversity management, environmental management and conservation of renewable natural resources.
"My focus was mainly on my studies. When I finished my bachelor's degree, I decided to continue with a master, which I completed in August 2018," she says.
By the time Yahya was completing her master's degree, she was already immersed in a department's practice of marketing smoked fish products. As a way of building the entrepreneurial skills of students of the DAFM, interested students can undertake the sale of smoked fish and in return get 10 percent of proceeds. The rest is deposited into the university's account and used for maintenance.
Her Path to Millionaire
While Aderinsola Yahya learned many relevant fishery-related courses, she had a great interest in marketing and customer relations.
"When I was marketing the products of the department, I developed a large customer base and kept close contact with my clients," says the young entrepreneur. This close connection endeared her customers to her.
"This is primarily the reason why I started mulling over setting up my own business. I had demand, a customer base, and knowledge of rearing fish."
In 20xx, this indigene of Abeokuta, Ogun State founded Bspice Products and services limited.
But when she decided to go solo, she set her sight beyond the university in community in part because she wanted a market size that would match her high ambitions. Ibadan located about 150 kilometers North of the economic capital, has a population of about 2.5 million people. This represents a significant market for edible products include fish and other sources of protein.
"When I started, I introduced my products to the existing customer base. Later, I spread to supermarkets."
To the traditional marketing approaches, she brought her social media strengths to attract new customers.
"About 60 million buyers in Nigeria use social media. This is a large market and that's how we penetrated and pushed our products through our social media connections."
Overall, BSpice Fish produces and commercializes smoked fish and other processed fish products such as Fish Snack Pack, Fish Oil, Fish Powder, Fish Spice, and Chunked Spiced Catfish. As her customer base has grown, so has also diversified her products. Today, she also processes and packages other products that allow for the cooking of local food delicacies such as okro, ogbono and egusi soup.
Monthly revenue is now estimated at between 2-2.5 million Naira for B Spice Fish. This is roughly (USD 4,000).
Income, she says, tendS to increase with feasting periods such as the Muslim fasting period (Ramadan). "Based on our accounting, we have already generated close to 1.6 million Nairas," she said when we met with her on May 16, 2019, on the campus of the University of Ibadan. Ramadan is being celebrated across Muslim communities since May 5, 2019.
When CORAF and the West Africa Agriculture Productivity Program (WAAPP) engaged the DAFM in 2013, producing future entrepreneurs was not a central priority.
The DAFM alongside the University of Buea in Cameroon and the University of Njalah in Sierra Leone won a commissioned project. A multi-donor trust fund funded it with CORAF's management.
The primary objective of the project was for these three universities to further integrated fish farming research. The breakthrough nature of the findings of this adaptive research project and the exceptional approach with which they have promoted the outcomes as well as the level of adoption has resulted in buy-in from all actors.
Not only has the University of Ibadan thrown its weight behind the department to further expand the results, but many across Nigeria and in West Africa have also bought into the practice including Aderinsola Yahya.
"I am a product of integrated fish farming. Not only did I study it, but I also practice it," says Aderinsola Yahya.
Today, Aderinsola Yahya is an employer. She manages a team of six and operates six large ponds with the capacity to contain about 1500 catfish at a time. Given the increasing demand, she farms all-year-round. When she is short on fish, she reaches out to other farmers for supply. She also partners with the DAFM for fish supply when she has shortages.
Her unique story has attracted development organizations to invite her to international conferences to speak about her experience and motivate young people across the world.
Having just married towards the end of 2018, Aderinsola Yahya is looking forward with excitement to her new-found passion of aquaculture entrepreneur and consultant of fisheries issues.
Over 50000 people have adopted integrated fish farming in Nigeria (fish, rice, poultry, and pig production). Development organizations as well as research institutes including WorldFish, FAO, etc. are also looking to partner with the department. The university has gained further recognition as a result of this technology.